Preparation
Cook shrimp to package directions.
For sauce reduce coconut milk by 2/3. Add sweet thai chilli sauce and soy sauce. Serve on side of shrimp.
---
Ingredients
5 each Mrs. Friday's Coconut Butterfly Shrimp 16/20 ct.
Sweet Soy Coconut Sauce
1/2 cup Coconut milk
2 tablespoons Sweet Thai Chilli Sauce
1 tablespoon Soy sauce
---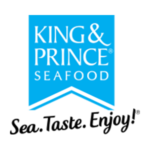 Recipe by King & Prince Seafood.
Originally Published on their site.
All rights reserved.