Preparation
Mix curing salt, sugar, dill, pickling spice.
Coat salmon filet evenly with seasoning, cover in non-reactive pan and refrigerate for 36 hours.
Wash off seasoning, pad dry.
Cold smoke salmon for 10 hours.
Clean & blanche red peppers. Blend with maple syrup to make sauce.
Gently grill wild onions, cool and season with salt and pepper.
Slice smoked Red Spring Salmon, place on a natural wood board. Dress with sauce and wild onions.
Garnish with wild greens/ micro greens.
Ingredients
1 side Red Spring salmon filet (approx. 2 lbs)
2 pcs. Red peppers
5 oz. Maple syrup
1 1/4 cup Curing salt
4 oz Fresh, chopped dill
2 oz Pickling spice
2 oz Sugar
4 oz Wild onions, small
Salt and pepper to taste
---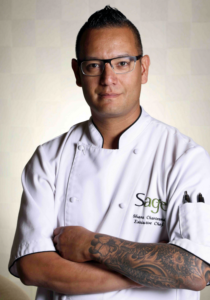 Recipe by
Shane Chartrand
Executive Chef & General Manager, River Cree Resort & Casino
Shane Chartrand grew up in rural Canada between Calgary and Edmonton. His adoptive father taught him to hunt, fish, and respect his indigenous Enoch Cree Nation roots. Chartrand got his professional start when he was 14, washing dishes at a "dive" and working his way onto the line by 17, when he decided to move to Edmonton. After graduating from Northern Alberta Institute of Technology, he ran franchise restaurants but didn't find it particularly soul-satisfying. Chartrand changed courses, honing his craft at some of Edmonton's best restaurants: Hotel McDonald, Sutton Place, and Union Bank. As Chartrand ascended the culinary ranks, he also became involved in the community. He's an advocate for such charities as Make-a-Wish and the Canadian National Institute for the Blind. Chartrand also teaches cooking classes to indigenous youth and is a member of the Alberta Ate Chef Collaborative. Today, he's executive chef of River Cree Resort & Casino.