Preparation
Marinate the shrimp in half lemon juice and 1/2 table spoon ginger and garlic paste.
Batter – mix all the ingredients in a big bowl & make batter with added water. Batter should be very thick.
Marinate the shrimps with the batter and leave for 4 hours. Store in a cool place (10-12ºC).
Heat the oil and fry the shrimps until the tail becomes fluorescent orange.
Serve the shrimp pakora with fresh mint & cilantro chutney.
A rosé wine is a great compliment to the shrimp pakora
Ingredients
7 pcs Amanda Black Tiger Shrimp 16/20
3 tbsp Besan
1 pinch Carrom Seeds
1/2 tsp Deggi Mirch
Salt to taste
1/2 tsp Tumeric powder
1 pinch Kasturi Methi powder
1 pinch Garam Masala
1/2 tbsp Ginger & Garlic paste
15 oz Lemon juice
200 ml Oil
---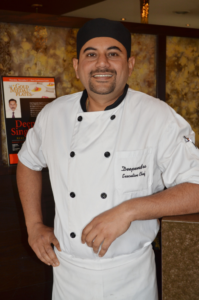 Recipe by 
Deependra Singh
Executive Chef, Guru Restaurant, Edmonton