Preparation
To make Gochujang marinade:
Mix all sauce ingredients together with hand mixer.
Season to taste!
To make pickles:
Heat stock pot, add all pickling ingredients except carrots, scallions and garlic.
Bring to boil, remove pot and let cool.
Once cold, add scallions, julienned carrots and garlic cloves.
Marinate for minimum 5 days in non-reactive container.
Season to taste.
Marinade lingcod with half of the sauce for approx. 6 hours. Grill over open flame to your liking.
Serve grilled lingcod family-style with butter lettuce leaves, pickles, mushroom, and remaining Gochujang Sauce for dipping
---
Ingredients
For sauce:
3 oz Gochujang (hot Chile paste from Korea)
3 oz Miso paste (soybean paste from Korea)
2 oz Honey liquid
2 oz Sesame oil
2 oz Sake wine
Fish:
Pickles:
2 1/2 cups Cold water
2 1/2 cups Apple cider vinegar
1/2 tsp Whole cloves
1 tsp Whole black pepper
4 Bay leaves
2 oz Sea salt
3 oz Brown sugar
1/2 cup Whole garlic
1 doz. Whole scallions
1 cup Julienned carrot
Wraps:
1 head Cleaned Butter lettuce
6 oz Bunapi mushroom
---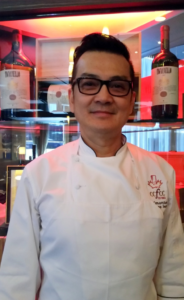 Recipe by
Sonny Sung
Corporate Executive Chef, Sorrentino's Restaurant
Sonny Sung is an astute Chef and Cookbook Author. He has succeeded in building his reputations in Canada's hospitality industry and is recognized as one of the top North America's prominent chefs. His career flourished and he was the Executive Chef and co-owner at "Claude on the River," which was awarded as one of "The Best 100 Restaurants in Canada". Presently, Mr. Sung is the Corporate Chef for Sorrentinos Group, the best high-end Italian restaurant chain in Albert