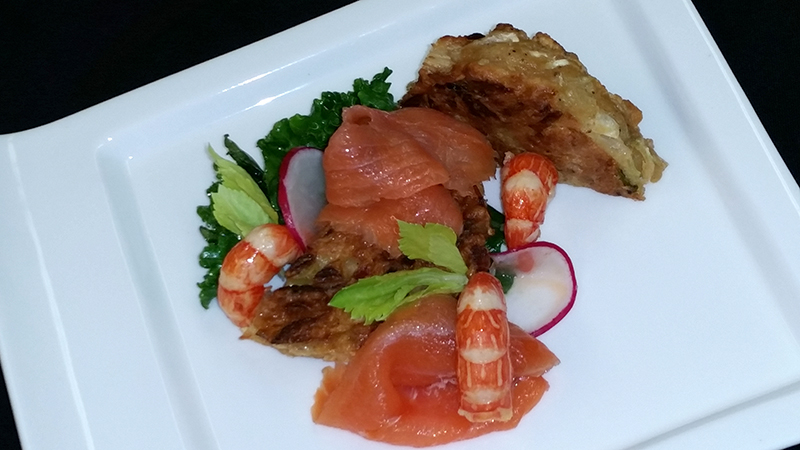 Smoked Salmon Latkes Preparation
Beat eggs, add soy sauce & water, and add flour slowly as you mix the batter.
Once well mixed, strain through fine mesh sieve, then add ginger and set aside.
Prepare filling ingredients, combine, and set aside.
Mix sauce ingredient well, set aside.
Heat oil in nonstick pan, over medium heat.
Combine batter & filling when ready to fry.
Scoop batter mix into pan with an ice cream scoop or ladle.
Fry until golden brown, about 4 minutes per side.
Serve with sauce.
---
Ingredients
Batter
2 Eggs
1/2 cup Water
1  1/2 tbsp Soy sauce
1 cup Flour
1/2 cup Pickled ginger, chopped
Salt & pepper to taste
Sauce
1-1/2 tbsp Mayonnaise
1-1/2 tbsp Dijon mustard
5 1/2 tbsp Ketchup
1 tbsp Soy sauce
1 tsp Lemon juice
Salt & pepper to taste
Togarashi (Japanese chili)
1/2 tsp Canola oil
Filling
1 cup Taiwanese cabbage, julienned
1 3/4 cup Nanuk smoked salmon, chopped
1/3 cup Green onion, chopped
---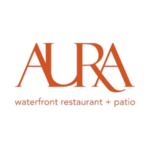 Recipe by Takashi Ito, c.c.c.
Executive Chef
AURA Waterfront Restaurant & Patio